CEO PROFILE

Chief Executive Officer: Rikako Ikeda
Brief History
In charge of serving and assisting international VIP guests during the Funeral ceremony for Emperor Showa and the Accession to the Throne ceremony for the current Emperor Akihito
Served and assisted international VIP guests during their visits to Japan while staying at the Royal Guesthouse
Served and assisted international VIP guests during the 2002 FIFA World Cup held in Japan
Lecturer for seminars held to instruct how to serve and assist foreign guests
Became Chief Concierge for Park Hyatt in 2004
Currently, Consultant for Concierge services not only to hotels but to hospitality affiliated companies
Training, promotion, and developing programs for professionals for hospitality industry
In 2009, wrote a book, LE HALL, published by Ohta Publications
In 2012, wrote a book, The only one custom through the guests who stay at the hotel SUITE ROOM, published by Asa Publishing Co., ltd.
In 2014, wrote a book, The key of OMOTENASHI, published by Asuka Publishing inc., ltd.
Chronology
March, 1987
Graduated from Department of Literature, English Literature - Ferris University
April, 1987
Joined The New Otani Hotel - Guest Relations, Social Director
June, 1990
Graduated from the Summer Program of Cornell University's Hotel Business Administration
July, 1991
Joined Hotel Seiyo Ginza – Personal Secretary (Concierge)
November, 1994
Became a Member of Les Clefs d'Or International
November, 1995
Joined Tokyo American Club – Member Service Advisor (Chief Concierge)
November, 1997
Became a Full Member of Les Clefs d'Or International
June, 1998
Joined Yokohama Bay Sheraton Hotel & Towers – Chief Concierge
October, 2002
Joined Chateau de Montvillargenne【Paris‐Chantilly】 -
Guest Relations / Concierge & Asia Market Sales and Marketing staff
April, 2004
Established MaRit'aime inc.,ltd.
May, 2004
Joined Park Hyatt Tokyo – Chief Concierge
September, 2005
Assumed position as MaRit'aime inc.,ltd. CEO & Concierge Consultant
A Concierge is a Wizard to Fulfill your Travel Dreams
It was on my first trip to Europe, during my childhood with my family, that I first learned of and encountered a concierge at a hotel in Paris. It was an unexpected meeting at the beautiful Hotel Plaza Athenee Paris, near the Champs-Elysees street. It was in the Montaigne district that is famous for it's first class maisons and was decorated with red geraniums. Since I was still young, I was enchanted by the beauty of the hotel and stood speechless in the middle of the round lobby.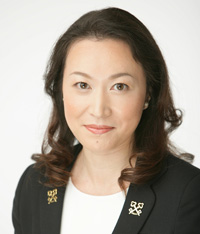 The gentleman smiled gently and called out to me. This was the "Concierge". This gentleman gave me a small ashtray and letter set that had the hotel's art nouveau logo on it. I still cherish the both of these items as my treasure.
Although I have moved several times, I still have this ashtray and letter set in the drawer of my dressing table. Whenever I look at it, it reminds me of the gentleman's gentle smile.
Time has passed but I became a Concierge so that I would be able to pass on this beautiful memory to other people. To me, the word Concierge means,"a Wizard to fulfill your travel dreams". To know your location in detail and provide correct advice and make arrangements. One should not only be able to satisfy the guest but also have the ability to provide them with "impressions that are unforgettable". This is the most important "mission" for the concierge. A concierge should have language ability, be scrupulous, sincere,honest,and be able to share with and feel another person's happiness.